LikShield is sold only to licensed veterinarians.
Live from the 2011 Western Veterinary Conference in Las Vegas
Much like humans, when an animal receives surgery, the healing process is an uncomfortable and constraining experience. Animals do not understand the healing process and their typical response to being wrapped in bandages is to tear away at the area to lick their wounds. This of course can prolong the healing process and lead to infection.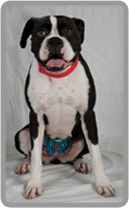 LikShield™ was developed as a wound management product to prevent post-surgery sutures and bandages from being tampered with by the animal. LikShield may be applied over a bandaged area or around the wound/surgical site. LikShield provides a safe mild electric stimulus to the pet's tongue when licked to deter the pet from licking. The tingling sensation and unpleasant taste will prevent pets from licking, allowing their wound to heal.

Available in a resizable 9" x 6" patch, LikShield can be fitted to dogs, cats and other companion animals. LikShield may also be applied to keep IVs and catheters in place.
In veterinary trials, LikShield technology has proven to be over 90% effective regardless of the size, age or breed of pet. LikShield is an easy, safe and low-maintenance product to prevent the natural licking instinct allowing surgical wounds to heal.